Arnott's have added two new flavours to its Shapes Aussie Legends range – Meat Pie and Sausage Sizzle. The two new flavours follow the success of the Vegemite and Cheese variety.
Arnott's have also righted a wrong on the inaugural Legends Vegemite range, with the two new flavours having biscuits in the shape of Tasmania as well as the Australian continent.
The Food & Drink Business team have been waiting with bated breath for today's announcement, after the Arnott's crew sent us mystery boxes last week to try and guess the flavours. 
"There's no question that Aussies love a meat pie and a sausage sizzle. After the overwhelming response we received for Shapes Vegemite and Cheese last year, we wanted to expand our Shapes Aussie Legends range with more of these tastes Australians love," said Arnott's marketing manager, savoury, Shannon Wright.
The development of the flavours was supported by consumer research to find out more about how Australians consume pies and sausages.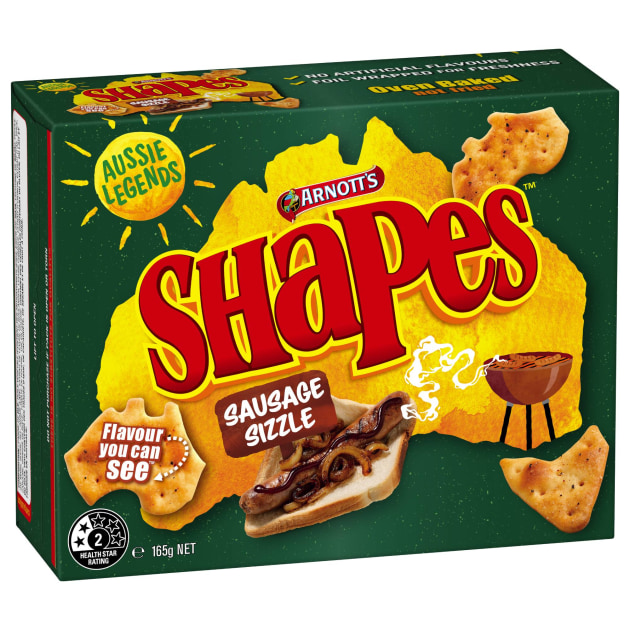 It found Australia's favourite meat pie sauce is tomato (63 per cent), followed by barbeque sauce (31 per cent), while sausage toppings preferences found the country divided on onions (49 per cent prefer sausages with onions), Queensland (29 per cent) and New South Wales (30 per cent) residents less keen on mustard, and only 3 per cent of the country prefers to eat sausages with no toppings at all.
Shapes Meat Pie has flavours of tomato, gravy beef and subtle pepper and onion notes, while Shapes Sausage Sizzle offers the taste of charred beef, smokey and savoury barbeque, baked bread, caramelised onion and barbeque sauce.
The new Shapes Aussie Legends range will be available for a limited time from late December for RRP $3.20.