Australia's Vetta Pasta has relaunched as Vetta SMART Pasta, with a fresh packaging design, two new ranges and enhanced protein and fibre.
Sitting under the Rinoldi portfolio of brands, Vetta SMART Pasta had its packaging design revamped by the in-house design team to fit the brand's health and wellness positioning. It has launched its Fibre Dinosaur Pasta for kids, as well as a Fibre Lasagne, alongside its current range.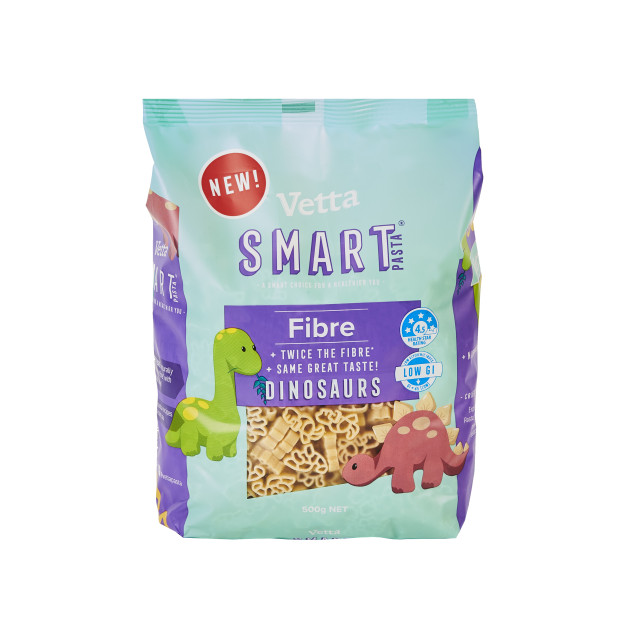 To tap into the growing protein trend, the Vetta SMART Protein pasta range has a five star health rating and "naturally deliers twice the protein and 25 per cent less carbs than regular pasta". It has 24g of protein per serve.
Rinoldi marketing manager Emilie Emond said relaunching as Vetta SMART gives a strong point of difference in the category, with the team taking inspiration from global packaging trends for the new look.
"Vetta has carved itself a niche in the functional pasta sub-category, by offering premium quality pasta products with added health benefits, with no compromise on taste," Emond told Food & Drink Business.
"Backed by consumer insights, we studied the category carefully in view of identifying a colour scheme that suited our brand story and unique positioning, while allowing us to really stand out on shelf."
The pastel colour palette and overall look of the packaging is fresh and modern, said Emond, with clean lines that highlight the product benefits while "delivering a strong lifestyle feel".
"This is a clear departure from the previous look of the brand and the rest of the category, which is exactly what we were aiming for in order to appeal to the health-conscious grocery shopper."
"Our pasta lovers already love the added health benefits of the range, and this was a natural progression for us as a brand," said Emond.
Emond told F&DB the packaging is locally converted and printed.
The new Vetta SMART Pasta range is now available from Coles nationwide.