Qimarox has expanded its product portfolio with a palletiser for frozen foods. The Qimarox Highrunner HR8 palletiser is capable of stacking boxes of frozen foods into sturdy and stable pallets, even if they are not form-fixed or not fully filled.
The unique pattern generator of the Qimarox palletiser allows easy generation of new stacking patterns without the intervention of a software specialist.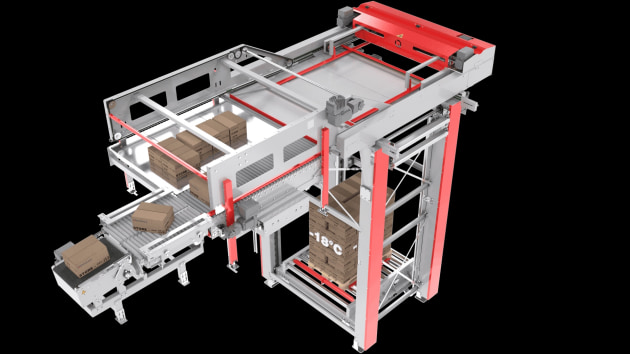 The handling of boxes of frozen foods causes headaches for businesses. The problem concerns the quality of the boxes, which are far from being structurally stable. The weight of the frozen foods can cause the boxes to expand, which means they are no longer within the tolerances with which conventional palletising solutions work.
If boxes are not completely filled, they can collapse under the weight of the boxes above them, resulting in product, packaging damage and unnecessary shrinkage.
Stable pallets with less film
The Qimarox HR8 offers a solution to these problems. The patented technology used to form pallet layers makes it possible to adjust the spacing between boxes to the nearest millimeter. As a result, all boxes of frozen products can be stacked without problems, even if they are not completely formable.
The palletiser also takes into account the ribs that give the boxes their strength. By placing the boxes with their ribs exactly on top of each other, the Qimarox HR8 prevents boxes that are not completely filled from collapsing since this part of the box is structurally robust. The result is a pallet so stable that wrapping the load requires less film than usual.
Smart pattern generator
The Qimarox HR8 features a smart pattern generator that automatically generates stacking patterns based on the box size. This means that when using a new box format, no software specialist is needed to program a new stacking pattern. All the operator has to do is select the desired stacking pattern. The HR8 does the rest and automatically translates the stacking pattern into instructions for the machine.
Minimal product damage
Qimarox has been developing palletisers for many years, which are used worldwide by dozens of consumer product manufacturers. Because these robust, low-maintenance plate palletisers carry the products at the bottom, the chance of product damage is minimized. This is particularly relevant in deep-freeze environments, where a vacuum gripper may not function properly due to ice build-up on the boxes.
Modular with low maintenance
The Qimarox HR8 has a modular design with the same low-maintenance, standard components found in Qimarox's other palletisers, such as the successful Highrunner HR7 and Highrunner HR9 for container unloading. In other words, the HR8 is built with proven technology that guarantees high availability and low operating costs.