GEA has integrated predictive AI elements into its real-time monitoring solution, GEA InsightPartner Brewery, to assist breweries in advancing the sustainability of brewing processes.
GEA InsightPartner Brewery monitors production performance in real time, anticipates anomalies and suggests improvements. In addition to conventional brewhouse data, the system now analyses sustainability performance indicators based on energy consumption and heat recovery in the process cycle.
Breaking out of data silos
GEA brewery business senior director of product development Dr. Mark Schneeberger said the driving force behind InsightPartner Brewery was the desire to control the sustainability of the brewing process from within production.
"First, we needed to track and correlate events in our real-life environment. Next, we added self-learning AI to the software. This lets breweries better understand and solve problems. Instead of analysing data, brewmasters can again focus on brewing. GEA InsightPartner Brewery is a tool to manage their sustainability," said Schneeberger.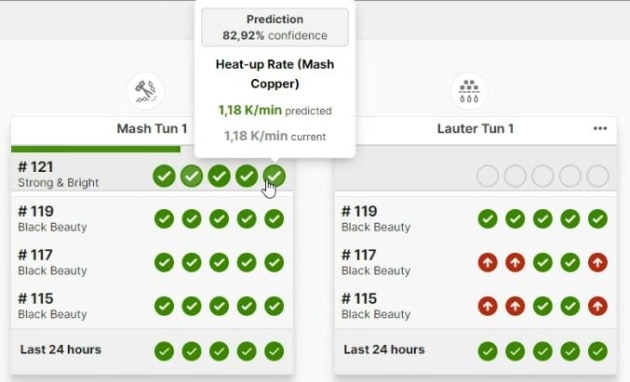 Brewing process efficiency is determined in production by balancing the productivity, quality and sustainability triad. In many cases, brewery operators have to rely on isolated sensors attached to the individual components. Yet temperatures, pressures and flow rates don't add up to a complete picture, nor do they allow overall system performance to be predicted.
The complexity is compounded by fluctuations in input material properties and the fact that breweries often produce many beer varieties at the same time. With the new software release, brewers can break out of the data silos with well-presented analytics that put them firmly in the driver's seat when it comes to managing their data ecosystem.
The path to the golden batch
GEA InsightPartner uses predictive analytics, trend curves and forecasting models to determine performance indicators up front.
Instead of waiting for one brew to finish before making adjustments for the next, the process can be improved mid-brew – for instance, by fine-tuning energy recovery as the wort boils, or by correcting imbalances in the energy storage system.
For performance issues that call for operator attention, the system provides predictive focus cards that show potential for improvement on the fly. Rather than signalling process events as with a control system alarm, the focus cards flag undesirable trends that impair productivity, quality or sustainability.
GEA InsightPartner Brewery also autonomously detects anomalies and continuously presents them for remote display. On request, GEA's process engineers will log in and make recommendations.
The AI's predictive capability is refined with each recorded brew. Ultimately, this brings the brewery ever closer to the golden batch – the optimum brew with maximum quality and minimal resource input.
Flexible condition brewing
Field trials at breweries confirmed that AI-assisted process optimisation enhances performance, bolsters energy efficiency, cuts operating costs and increases safety.
"GEA InsightPartner delivers results in an accessible format for all areas of the brewery, where clear, comparable, readily available data was previously lacking.
"For us, advanced analytics is definitely the right way to fuse sustainability with decision making in daily brewery operations. GEA's smart technology marks a key milestone for breweries, paving the way to condition-based production – so that brewers can stick to the business of brewing once more," said Schneeberger.