Auspack opened its doors at Sydney Olympic Park yesterday and food and beverage industry professionals took to the aisles to check out cobots in action and augmented reality equipment demos among many other innovations.
Over 350 brands are exhibiting their products and services at Auspack, and visitors numbers are expected to reach over 7000, making this the biggest Sydney event in the show's history, according to Mark Dingley, chairman of show owner, the Australian Packaging and Processing Machinery Association (APPMA).
Collaborative robots are finding their way on to stands, with Foodmach showcasing the latest cobots from Universal Robots, UR3 and UR10, with the latter stacking pallets with help from the new FoodMach pressureless, accumulation conveyor Accumach, and software interface, Robo Wizard.
"Normally it would take two days to program the robot, but Robo Wizard can do it in two minutes," Foodmach director Peter Marks said.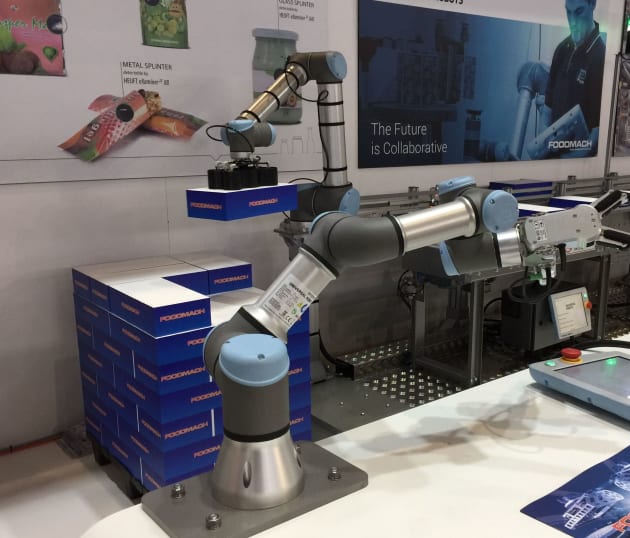 Augmented reality (AR) was also finding interesting new applications among exhibitors, with Heat and Control taking advantage of the technology to show Auspack visitors its new HeatWave snack fryer in action on the stand.
"This fryer was obviously too large and too dangerous to bring to Auspack," said Heat and Control sales manager, Greg Pyne.
Using AR, Pyne said, Heat and Control was able to demo the new product, which offers snack manufacturers big advantages due to its use of curtains of clean filtered oil instead of submersion.
Auspack is also offering a full program of presentations on processing industry trends and technology, as well as special events to encourage networking between brand owners and the supply chain.
For more Auspack highlights, look out for our full coverage later this week, and the full post-show wrap in the April print issue of Food & Drink Business.