I Am Grounded co-founders Vanessa Murillo and Lachlan Powell are changing the way we look at coffee – as a food. Doris Prodanovic finds out how coffee fruit waste is upcycled into functional snack foods. This story first appeared in the July 2021 edition of Food & Drink Business.  
It is easy to forget that coffee is a fruit harvested solely for its beans – and it only makes up 10-20 per cent of the actual fruit. What we don't see is the 20 billion kilograms of coffee fruit waste produced globally each year as a result. This is equivalent to 3300 Olympic swimming pools. I Am Grounded is the Brisbane-based start-up here to remind us that the remaining 80-90 per cent of the fruit can be upcycled into something new that is good for both people and the planet.
Since launching in March 2019, I Am Grounded has upcycled 2450 kilograms of coffee fruit waste into functional snack bars, and subsequently diverted around 1960 kilograms of CO2 emissions.
"When we harvest coffee for the seeds rather than use the whole fruit, the part that isn't used is thrown away; it simply rots," I Am Grounded co-founder Vanessa Murillo tells Food & Drink Business. "As it ferments naturally it starts to decompose, creating mycotoxins. And with coffee farming regions being in high tropical rainforest areas, it rains often and that rain pours onto the rotting fruit which then leaches into surrounding waterways."
"It contaminates local waterways and creates CO2 emissions – we're talking 16.6 million megatons."
In many origin countries where coffee is grown, there is a lack of facilities to properly compost the mass scale of the waste produced, co-founder Lachlan Powell adds. It is also a missed opportunity for farmers who can gain additional revenue by selling the coffee fruit waste before it gets to the rotting stage where it can then be upcycled into a concentrate or as an extract, repurposing it into a new value cycle.
"We were the first Australian company to partner with the Upcycled Food Association, which is a growing global organisation focused on bringing upcycled foods to the mass market," says Powell.
"It's an American-based organisation that onboards businesses around the world and gives them support. They're also in the process of releasing a label, similar to the organic certified label. It's been a great support network as well, and we've been able to hear from similar coffee fruit upcycling businesses and what they're doing overseas."
Food over drink
Murillo and Powell were determined to look at coffee as a food rather than a drink when experimenting with what they could make with the fruit by-product. The pair spent a year hand making the snack bars before partnering with a co-packing facility in northern New South Wales, now manufacturing around 4000 bars per SKU, and is set to scale up.
"Coffee fruit is an interesting ingredient to work with and it took us a while to put the recipe together," recalls Powell.
"There are some companies overseas that are using the outside shell or husk – known as cascara in Spanish – and steep it like a tea. We wanted to look at the fruit as a food from the start, so we press the cascara into an extract, mix it with whole nuts and organic natural ingredients, and then make it into a raw bar."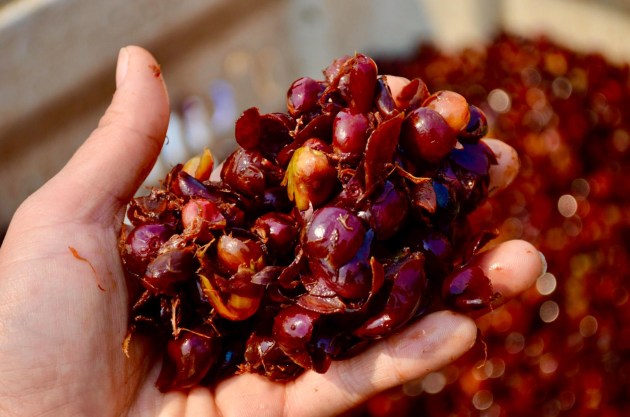 Many snack products are date-based, high in sugar, or have "unpronounceable ingredients", Powell says, but I Am Grounded's range aims to deliver a product with a natural source of caffeine, high in antioxidants, and a way to snack sustainably.
"Coffee fruit tastes like a stone fruit and pairs really well with chocolate, lemon and even coffee – it's a versatile ingredient and tastes delicious," adds Murillo. "We saw a gap in the market and thought we weren't the only ones who want to snack right and snack sustainably. In some of the initial trials, people responded really well to the product and the functionality of the bars, and were looking to eat something that isn't always easily accessible."
The snack bar names are connected to the times a person would want a snack – The 9am, The 3pm, and The Pick Me Up. The three flavours were iterated, Murillo says, "as we listened to customer feedback and understood what our core market were telling us about what they wanted in a functional snack".
"Each of our bars has a green tea level of caffeine, so creating a product that has a nice, longer lasting buzz with the functionality, plus the story of having this upcycled, discarded, by-product, is something that has really caught consumers' interest," she says.
Sourcing by-product
To make its better-for-you snack bars, I Am Grounded uses the discarded by-product of coffee fruit – pulp, muselage and cascara – which is sourced from three farms overseas that upcycle during their harvest. As the fruit is picked, the by-product is then taken and made into a concentrate, which is then sent to Australia.
Powell says that when starting I Am Grounded, it was important to sketch out an impact model as part of the business plan and go beyond measuring only the revenue.
"We're a growing company but we wanted to find ways to give back even in these early stages of the business," says Powell. "We track per product sold how much CO2 is diverted and we're looking to partner with coffee farmers back at origin where we source from to assist them not just with revenue for the by-product concentrate, but also with infrastructure."
The pair also donated profit from its last Christmas campaign to Formemos Fundación, a school in Colombia caring for displaced and at-risk children, which also teaches them how to grow their own food and coffee for important life skills. Murillo says, "as we scale, we hope to make an even bigger impact".
Grow big
Murillo and Powell continue to accelerate the growth of their business any way they can. Aside from the range being available on their website and Amazon, I Am Grounded has partnerships with independent retailers and Queensland-based distributor Real Friends, which has an exposure of 4000 stores, as well expanding distribution interstate as it exhibits at trade shows such as Naturally Good.
"Since we're such a small team, every piece of feedback is so important and impactful for us. Every win is a milestone, and there are a lot of ups and downs. It's challenging but it's worth it," says Murillo.
In the pipeline, I Am Grounded plans to release a new range of snacking superfood bites in 120g packs. Coffee fruit will base the two flavour SKUs – vegan protein and cocoa, and banana and coconut.