Australian soup brand La Zuppa has unveiled a fresh new look, restructured range and innovative packaging development (NPD) for the upcoming soup season, with a vibrant pack design and all-natural and inclusive range.
B&B Studio in London designed the packaging for the "eye-catching" soup pouches and bowls. The pouches are made of layers of PET, nylon and aluminium, and other plastic materials, with each pouch "carefully designed" to be heat and food safe, to ensure the La Zuppa soups, which are made and filled in Thailand, are kept at the "best conditions throughout their shelf life". 
The La Zuppa soup bowls are made from a recyclable plastic that can be used in the microwave. The foil lid can only be disposed in the bin but the bowl itself can be recycled, as can the outer cardboard sleeve.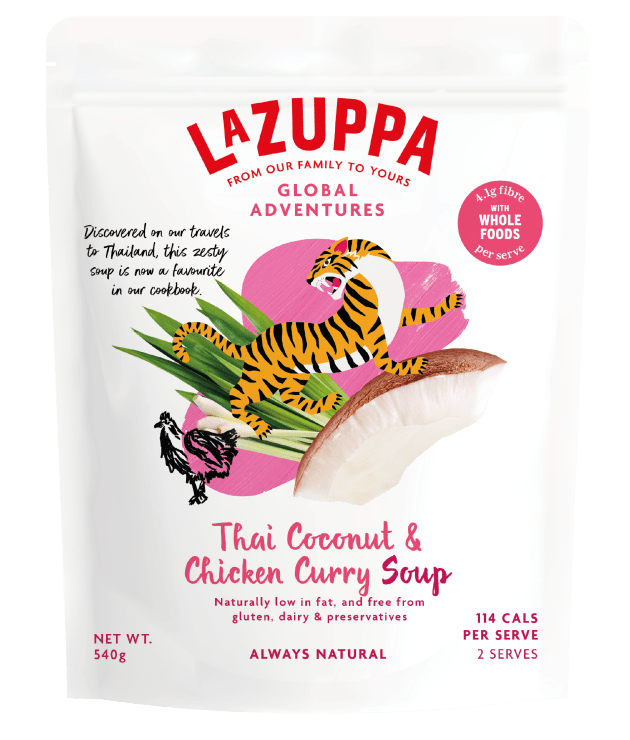 According to La Zuppa, the strategic brand refresh aims to reinvigorate category, grow brand and increase repeat purchase and relevancy with a broader shopper base, via the introduction of three distinct ranges reflecting three generations of the Valmorbida founding family.
The refresh distinguishes the brand's popular Italian recipes – Chapter 1, Italian Traditions, with the introduction of 'Chapter 2, Hearty Classics', offering familiar home-style flavours core to decades of the Australian diet. A reflection of the family's globe-trotting third generation, through 'Chapter 3, Global Adventures' customers can discover new dishes and connect with different cultures all over the globe.
Retaining elements of the brand's rich Italian heritage, the "playful and eye-catching new design simultaneously has an eye on the future; aiming to strategically reposition the ranges to attract new younger consumers, without alienating loyalists".
The redesign and NPD offers "an open invitation for every palate and diet to dine with La Zuppa; underpinned by the belief that nutritious foods should be created with everyone in mind".
"Knowing the demands on young parents and professionals, as well as their desire for easy, healthy nutrition on the go, we identified an opportunity to attract a broader shopper base for La Zuppa," said Dora Constantinou, sales and marketing director for Valcorp Fine Foods.
"Through the process of rebranding and redesigning our packaging, it was important to appeal to these new, younger consumer segments without alienating our loyal customers, and to show Aussies that while our brand is rooted in our Italian heritage, our recipes develop and expand with each new generation. Our new look brings together elements of La Zuppa's Italian heritage with an eye to the future, through a playful and striking design highlighting our health credentials, ingredient cues and the diverse global influences that have shaped the collection of La Zuppa recipes.
 
"Importantly, we have focused on reframing our product offering by distinguishing three ranges, each reflecting a generation of the Valmorbida founding family, and catering to the preferences of a diverse range of Australian palates."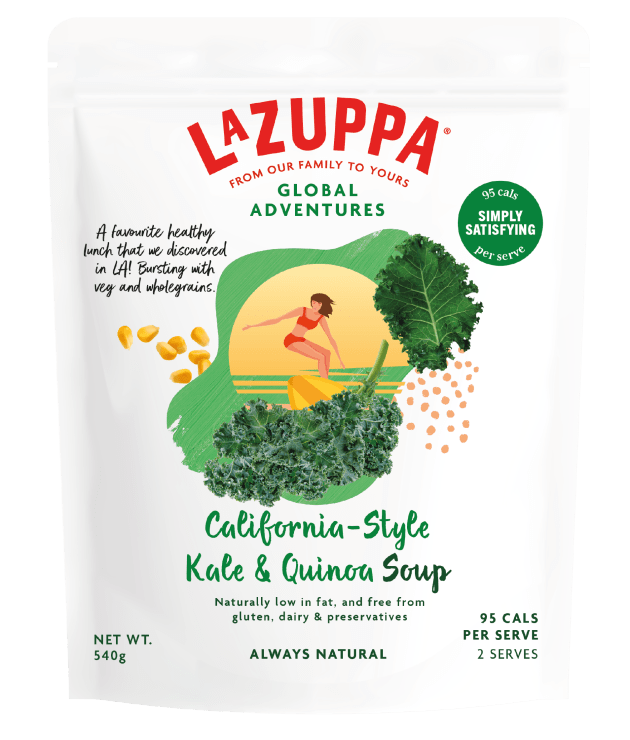 In line with the new packaging, La Zuppa introduces a host of new flavours including a light and creamy blend of sweetcorn with chicken in a Chicken & Sweetcorn soup and a rich tomato puree, brightened with roasted red capsicums and Thai Basil for a twist in the Tomato, Capsicum and Basil soup.
The all natural, healthful recipes have been created with a broad range of health, wellbeing, and taste preferences in mind. Across the dairy, gluten and preservative free range, La Zuppa has soups that offer a range of different dietary requirement whether it be a source of protein, meat-free and plant- powered, fibre-filled or lighter options.
"The story of La Zuppa is the story of three generations of our family – spanning from my Italian roots (and my husband's), through the Australian upbringing of our children, to the global travels of our grandchildren," said Elsie Valmorbida, grandmother of La Zuppa's founding family.
"With a history dating back to 6000 BC, we believe in the fundamental goodness of soup. We first created La Zuppa's soup range based on the belief that the best way to share our family recipes and history would be with a dish found in nearly every country's cuisine."
The La Zuppa range of wholesome soups are low in fat, all natural and made from nutritionally-rich ingredients, without dairy, gluten, and free from any preservatives.
The range is available now at Coles, Woolworths and selected independent retailers nationwide, in pouch and bowl formats.