When Dr Vincent Candrawinata was researching how to extract potent antioxidants called phenolics from apples, he didn't know he was going to create a whole new industry for Australia's apple growers and become the largest purchaser of apples in the country. 
Candrawinata was focused on the role apple phenolics could have in fighting inflammation. That was just the beginning. Now his company, Renovatio, has an expanded range of products to support gut health, skin, immunity, and mental resilience chewables.
"This year, we launched our first pantry item, the world's first activated high potency antioxidant organic apple cider vinegar, Renovatio Apple Cider Vinegar.
"We have since launched a skin care range including APSKIN hand and body cream, body oil, face cream, face serum and face cleanser," he said.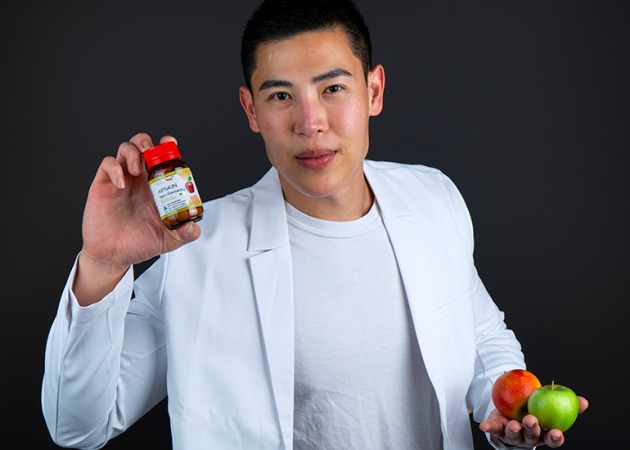 Candrawinata arrived in Australia from Indonesia as a student in his 20s to study at the University of Newcastle. During his doctoral research studies, he discovered an innovative method of extracting the world's most potent antioxidants known as phenolics from Australian apples and activating them using a process involving only water.
The resultant activated phenolics are not only extremely powerful and beneficial in supporting cellular health, up to 97 per cent can be absorbed by the human body. 
For Renovatio to succeed, Candrawinata needed a reliable supply of apples. For the struggling Australian apple industry, it was a golden opportunity.
Climate change is devastating many produce industries including apples. The impact of worsening and more frequent weather events is damaging crops and affecting the saleability of apples.
According to Jessica Crombie of Appledale, one of Australia's leading apple processors cooperatives, most supermarkets only utilise tier-one quality apples when it comes to selling packaged fresh fruit on shelves.
Each season, up to 50 per cent of apples cannot be packaged for sale on supermarket shelves due to issues with skin quality, colour, shape, and size. Apples that do not make the grade are either dumped or used for other purposes such as juice, fillers, or sauces.
"Weather is devastating the apple industry and impacting the amount of produce that can be sold and used in the FMCG sector.
"This means hard-working Australian farmers are losing significant income because they are not able to achieve top dollar for their products and they are not able to sell all of it," Crombie said.
In its processing method, Renovatio, uses 100 per cent of the apple.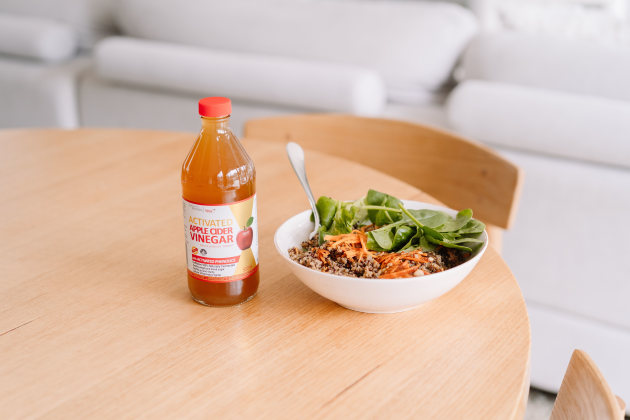 "It doesn't matter if the apple is a weird size or shape, it still carries the same vitamins and nutrients. Using our patented proprietary scientific methodology, we can process all the apple, utilising every part of it and then activate its unique antioxidants to amplify its goodness, benefit to the body, and ability for the body to absorb and process its extraordinary nutrients," Candrawinata saud.
Crombie said Renovatio is the only business working with the industry that uses the whole fruit.
"Renovatio doesn't waste any apples or any part of the apple product. They can use the whole lot," she says.
"We are growing at such a high rate that we cannot get enough Australian apples. In our business, we use 100 percent of each and every apple we process, only excluding the seeds," he said.
"Our rapidly expanding ranges and increased distribution nationally and overseas means that we are in need of a growing supply of Australian apples. Not only are we able to use the whole apple we need to rapidly increase the number of apples we are able to access.
"We are very proud to be one of the biggest purchasers of Australian apples in the country and look forward to augmenting our role as the most innovative manufacturer of apple products – translating Australian apples into world-leading products that help to improve the health and wellbeing of people across the country and the globe."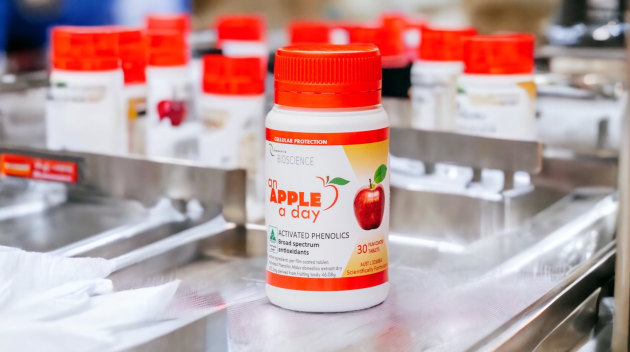 Products in the Renovatio range include:
              Activated Phenolics Powder
              Activated Phenolics An Apple A Day Tablets
              Immunity Plus+ Tablets
              Gut and Digestion Powder
              APSKIN Skin Remedy Chewables
              Mental Resilience Chewables
              APSKIN Face Cream
              APSKIN Hand and Body Cream
              APSKIN Remedy Oil
              APSKIN Ultra Serum
              APSKIN Face Cleanser
              Activated Phenolics Apple Cider Vinegar
The entire Renovatio range can be purchased online at renovatio.com.au.