Deputy editor Alison Leader did the rounds to discover a host of innovations in the Packaging & Processing section of the Foodpro 2017 show.
Paul McGuire is the marketing manager for Cryovac Darfresh on Board: a packaging innovation from Sealed Air Food Care that offers more space for communicating a brand's story, as well as environmental benefits.
The recyclable, moisture-resistant board is a "blank canvas" for communications, according to McGuire.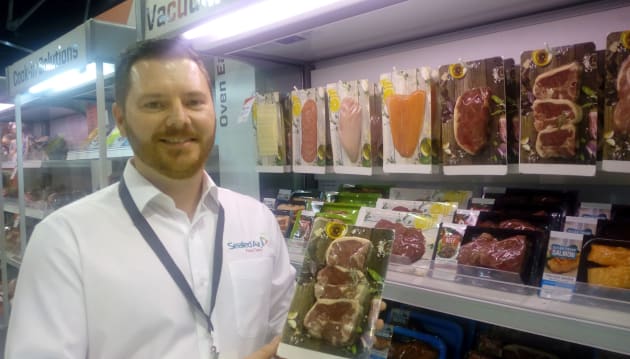 Vacuum skin barrier film technology reduces waste throughout the supply chain by delivering extended shelf life; and 100 per cent film utilisation means zero scrap or landfill.
The packaging solution is close to being launched commercially in ANZ. Visy is Sealed Air's board partner and Mondini is its equipment partner.
Cookie box bags
Philip Bower, ANZ business manager for machinery and packaging company Schur Star Systems Australia, showed us a Schur Star machine which "can do everything", from cookie 'box bags' which "take control of the cookie post-baking" to 'jar packs' which give bags a 3D look.
Bone, stone, and glass detector
Heat and Control's Greg Pyne demonstrated a range of X-ray systems and metal detectors from Ishida and CEIA which can safely inspect products for foreign matter such as bone, stone, and glass.
Also attracting visitors to the stand was an augmented reality (AR) app which enabled them to explore a fully operational HeatWave Fryer on their tablet or smartphone.
VSP forges forward
Flexo-Pack UK is leading the way with Vacuum Skin Films (VSP) that enable ready meals to be taken straight from the freezer or fridge and into the oven or microwave.
The films can be used on aluminium and CPET trays, and run on most VSP tray sealers, according to Flexo-Pack UK's sales and applications manager Nathan Gannaway, below.