Changing tastes in bread combined with the healthy eating trend has driven an increase in demand for alternative options.
Wholegrain flour options, organic products, brown rice, and gluten-free produce are rising fast, according to a new report by IBISWorld.
Its latest research into flour and grain mill product manufacturing in Australia finds downstream bread manufacturers are responding to consumer taste shifts by introducing new ranges of breads enriched or fortified with additional minerals and nutrients.
The growth of artisanal breads and organic baked goods has also allowed smaller industry players to carve out a niche to service this trend, as it removes the need to compete directly with the larger players on price.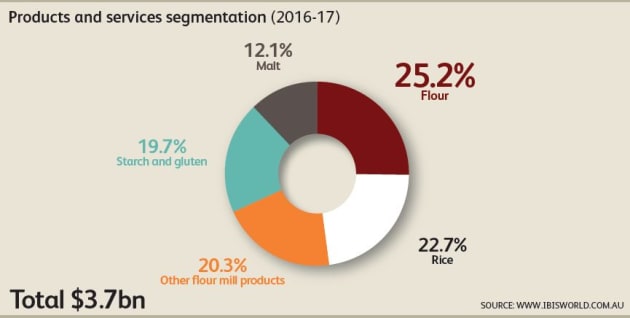 The changing ethnic composition of Australia's population base has also translated into growing demand for wheat to be milled into ingredients used in the production of flat breads, sweet breads, noodles and pasta.
IBISWorld says demand for premium or healthier baked products such as those containing grains, wholemeal flour, or gluten-free flour will drive product innovation and the introduction of new products over the next five years.
"Industry product portfolios are likely to move away from traditional products towards more value-added products, including specialty flours, artisan flours and pre-mixes catering for the home baking market," the report said.
"However, competitive pressures will remain intense.
"Most industry participants are expected to follow similar strategies, seeking to cater to evolving consumer preferences."