In an exclusive conversation with Food & Drink Business editor Kim Berry, Coca-Cola Europacific Partners vice president and general manager of Australia, Pacific and Indonesia, Peter West, reflects on the first anniversary of Coca-Cola Amatil being acquired by the multinational.
The level of Covid disruptions and supply chain challenges that defined 2021 were not what Peter West had anticipated as he stepped into the leadership of Coca-Cola Europacific Partners' (CCEP) Australia, Pacific, and Indonesia (API) business.
On the first anniversary of Coca-Cola Amatil being acquired by CCEP, West reflects that despite the pandemic's impact the transition "went brilliantly".
"Coca-Cola Amatil was a good business that continued to perform well. When you have a company in good shape you can focus on the future rather than what needs fixing," West says.
The structure of CCEP also contributed to a relatively seamless transition, with West saying that operating in multiple markets moulds a company's culture.
"Often with acquisitions there isn't much listening or learning, and a tendency to have structures pushed upon you. That hasn't been the case here at all. CCEP's multiple market business means it is very keen to learn," he adds.
And the region's financial performance reflects that, recording a strong start to the year with a 13.5 per cent rise in revenue.
"It is testament to the quality and maturity of our people, who just got on with the job. They moved through the company transition and navigated the impacts of covid brilliantly," West says.
This was despite a supply chain more volatile and vulnerable than he has ever experienced in his career. 
"We have seen suppliers and customers recording absenteeism at fifteen to twenty per cent due to Covid. Ensuring the safety of our people was paramount in all our decisions in the last two years." 
Becoming part of CCEP had an unexpected benefit for the API team, with other markets providing a predictor of what was unfolding with the virus and other global factors.
"The UK is about three to four months ahead of us. We could see a lot of supplier vulnerability unfolding in that market, so could gauge the implications of a similar situation here and adjust accordingly. It meant we managed the swings and volatility we saw play out domestically at the beginning of this year better than we would have otherwise."
West says the information flow goes both ways, with the scale of CCEP providing more opportunities to benchmark operations.
One area API is leading the business is its use of data and analytics, with the capability to break customers down to a postcode level now being held up as the gold standard to the rest of CCEP.
"It is something we do extremely well. We are seeing the re-opening of Australia right now. Having the analytics means we can see where growth is – which suburbs are the 'hot postcodes' – and where traffic is moving.
"This year and next are a recovery of mobility. Growth is uneven, you can see it bouncing as more regions open back up. The domestic tourism boom is strong and we're seeing a pick-up as stadiums return with sporting events.
"Looking at 2022-24, we see very strong demand and feel optimistic about the road ahead."
One of the major success stories in the last 12 months was The Coca-Cola Company's launch of a new Coca-Cola No Sugar formulation, bringing it almost on par with the taste of Coca-Cola Classic.
"The work done by The Coca-Cola Company on flavour has compelled its performance. We're about three years away from Coca-Cola No Sugar outselling Coca-Cola Classic."
West was also instrumental in CCEP committing to the Circular Plastics Australia (PET) recycling plant joint venture.
"Seven out of ten of our bottles are made from rPET, but we were having trouble sourcing enough domestically. The JV was underway, and it made sense to get involved. It was also important to us that our commitment was shown by us becoming an owner, that it wasn't just a supply agreement," West says.
The other members of the JV are CCEP's beverage competitor Asahi Beverages, Pact Group, and Cleanaway Waste Management.
"We want there to be a Coke versus Pepsi battle, but not when it comes to the environment," says West. 
The opening of the Albury-Wodonga plant was a seminal moment for West.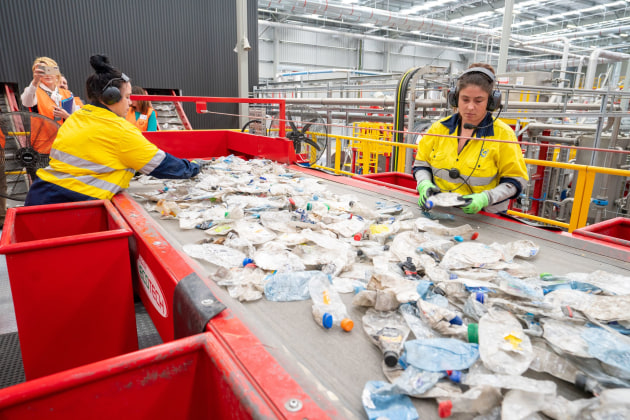 "You see all the bales of plastic at the start of the process that have been collected from around the country and think, this used to all be shipped offshore. That it is now being processed onshore made me feel incredibly proud."
The second plant is now being built in Melbourne's west.
Looking ahead, West says the benefit of new volumes will see more investment in the business over the next five years. Supporting smaller customers as foot traffic starts to pick-up is one goal, while the focus will continue on key beverage categories including the energy portfolio, sparkling waters, and Coca-Cola No Sugar.